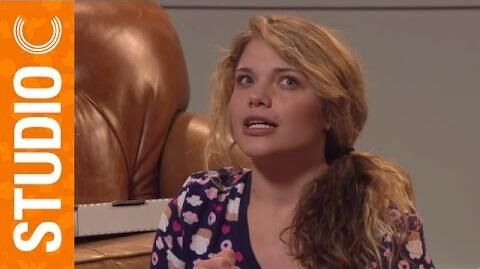 "The game two truths and a lie can make things a little awkward sometimes."
"When 3 girls get together for a slumber party, you never know what secrets might come out! Watch what the girls do when things get out of control."
This is the first sketch of Season 1 Episode 3.
This sketch is inspired by the ice breaker/party game Two Truths and a Lie.
This sketch was uploaded on the same day as the original airing of the corresponding episode on BYUtv.
This is the first sketch where only female Cast members appear.

Only three people appear, which makes it the sketch with the fewest actors playing in it, since Celebirthsary.

This sketch is the shortest sketch of Season 1 Episode 3, based on duration.
"Like, Comment and Subscribe!"
Edit
The end slate of this video shows a black screen with "STUDIO C, MON @ 9 ET / 7 MT".
Ad blocker interference detected!
Wikia is a free-to-use site that makes money from advertising. We have a modified experience for viewers using ad blockers

Wikia is not accessible if you've made further modifications. Remove the custom ad blocker rule(s) and the page will load as expected.