The Piano Guys
Edit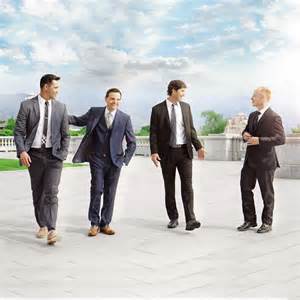 You may have been looking for someone specific named Steven. If you were, you might be able to find it here.​
The Piano Guys are an American musical group consisting of Jon Schmidt, Steven Sharp Nelson, Paul Anderson, and Al van der Beek. They gained popularity through YouTube, where they posted piano and cello renditions of popular songs and classical music. Schmidt and Nelson's music is accompanied by professional-quality videos shot and edited by Anderson and formerly by Tel Stewart. Their first four major-label albums The Piano Guys, The Piano Guys 2, A Family Christmas, and Wonders each reached number one on the Billboard New Age Albums and Classical Albums charts.
They collaborated with Studio C in the sketch "The Piano Guys Behind ThePianoGuys". They have attended at least one live taping.
Annie Schmidt, the daughter of pianist Jon Schmidt, went missing on October 16, 2016, most likely after going on a hike into the mountains. Unfortunately, she was pronounced (confirmed) deceased by her family on November 12, 2016, after having found human remains at the bottom of a cliff, with clothing and personal items belonging to her.[1]
The Piano Guys Behind ThePianoGuys
Edit
Have you ever wondered how the ThePianoGuys move the grand pianos on top of mountains, Great Wall of China, trains and other crazy locations? Meet The Piano Guys Behind ThePianoGuys.
Ad blocker interference detected!
Wikia is a free-to-use site that makes money from advertising. We have a modified experience for viewers using ad blockers

Wikia is not accessible if you've made further modifications. Remove the custom ad blocker rule(s) and the page will load as expected.