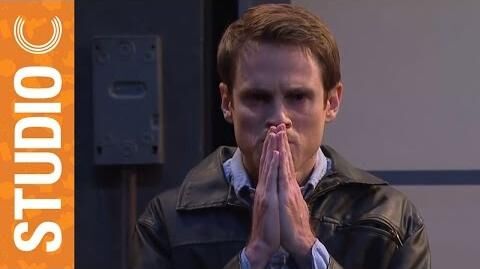 "The awkward doorstep scene from a guy's prospective."
"Every date you go on must come to an end, and that usually ends at their door. Watch as Matt tries to get up the courage to kiss Mallory and end it right."
Transcript
Edit
The transcript for this sketch can be found here.
This is the second sketch of Season 1.
As was usual at the time, the sketch was uploaded on the same day the episode aired on BYUtv.
This sketch has a sequel, which can be seen here.

In contrast to many sketches with a sequel, sketches of The Doorstep were played right after each other, instead of being in separate episodes, like for example Captain Literally and the Gary and Carl Show.

Jason is credited to appear in this sketch, but he does not.
This sketch, and it's sequel were featured in the special Season 1 Favorites.
"Like, Comment and Subscribe!"
Edit
The end slate of this video shows a black screen with "STUDIO C, MON @ 9 ET / 7 MT".
Ad blocker interference detected!
Wikia is a free-to-use site that makes money from advertising. We have a modified experience for viewers using ad blockers

Wikia is not accessible if you've made further modifications. Remove the custom ad blocker rule(s) and the page will load as expected.