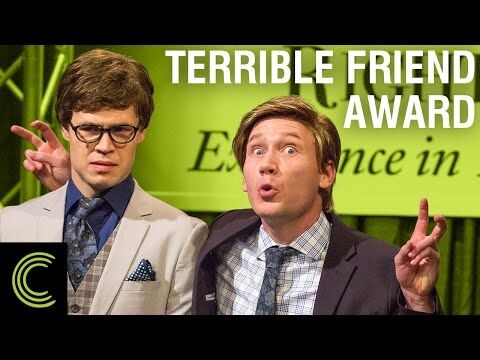 "Aren't best friends amazing?!? Like, kind of the best?? Do they not deserve an award? Well, if and when they get one, make sure you prep a valuable and important speech in honor!"
"Like, Comment and Subscribe!"
Edit
Jason: Wasn't that wonderful?
James: No.
Jason: Share this with all of your friends, specifically the friends you've committed crimes against.
James: Just don't commit crimes.
Jason: Comment below on all the crimes you've committed against those friends.
James: Or do that privately.
Jason: Or right here.
James: Or to the police.
Jason: Remember, an apology is an apology, unless it's done over social media.
Ad blocker interference detected!
Wikia is a free-to-use site that makes money from advertising. We have a modified experience for viewers using ad blockers

Wikia is not accessible if you've made further modifications. Remove the custom ad blocker rule(s) and the page will load as expected.