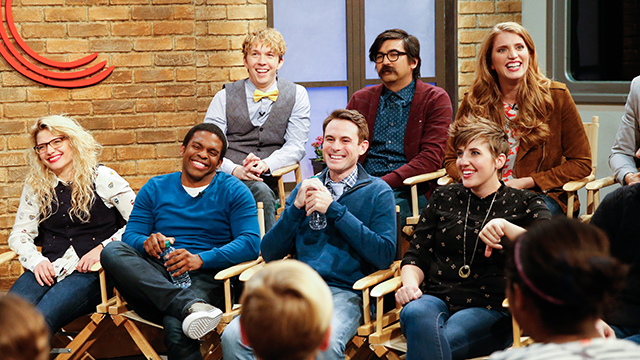 On October 19th the cast of Studio C joined with LDS.org to put on a youth event called Face to Face. Face to Face is a series of live, gospel-based video discussions, designed to help strengthen the testimonies of young single adults and youth around the world. Youth are asked to submit questions on the LDS Youth Facebook page or on Twitter and Instagram using the hashtag #LDSface2face. Members of the discussion then answer the questions on the spot using their own personal experiences.
Studio C is known as the BYUtv hit comedy show that specializes in clean, family friendly humor. Cast members are all LDS (members of the Church of Jesus Christ of Latter-day Saints) and strive to maintain the same standards on the show. Stars of the show include Whitney Call, Mallory Everton, Jason Gray, Matt Meese, Adam Berg, Stacey Harkey, Natalie Madsen, Stephen Meek, James Perry, and Jeremy Warner.
With a direct purpose in mind, this Face to Face episode's goal was to help youth see how individual talents and personalities can be a positive influence in the world. It also showed examples of how people can have fun, and still maintain their personal values.
Questions from youth included topics about: being on a TV show, marriage and dating life, and using the atonement in difficult times. The beginning of the show opened with light and fun questions from social media that delighted and entertained the audience. Cast member Stacey Harkey even showed a dance move called the "stank face," which is bound to make any move better. Cast members then opened up their hearts as they shared very intimate family moments that required the Savior in their lives.
You can watch the full episode on lds.org or on YouTube.