You might have been looking for the sketch, or the other Bad Extra character. You can find them here.
Star Feraldo
Edit
Star Feraldo is an "A-list extra". She is very difficult to work with and she doesn't like much. Whenever she doesn't get what she wants she will start saying "Ah nah!". She is primarily known as the main character of the "I Don't Do..." sketches. In each of her sketches, she mentions that she "doesn't do mornings", referring back to the sketch she first appeared in.
I Don't Do Mornings
Edit
With talent like hers, why would you even dream about being talked into doing things you don't want to do, like working mornings? Meet Star Feraldo, THE A-List Extra of Hollywood.
I Don't Do Robberies
Edit
Guess who's BAAAAACK??!?! STAR FERALDO with just as much sass as before! Watch this diva's demands and try to stay out of her way!
You can't get enough of Star Feraldo, right?? Well she can't get enough of you... as long as you're not a doctor wanting to operate on her in the morning. Watch out, Star's got some sass for you!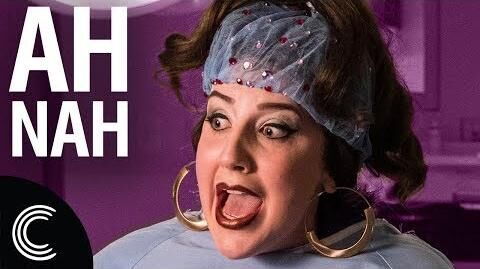 Ad blocker interference detected!
Wikia is a free-to-use site that makes money from advertising. We have a modified experience for viewers using ad blockers

Wikia is not accessible if you've made further modifications. Remove the custom ad blocker rule(s) and the page will load as expected.