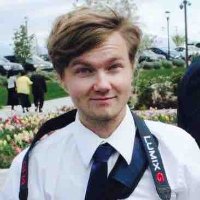 For the recurring character named Spencer, click here.
Spencer Coakwell is an editor for Studio C, and he has been since Season 4.
Spencer Coakwell has been involved with video production since high school. His father is a flight surgeon in the US Air Force, which is why Spencer and his family used to move every couple of years. Having lived in countries like Japan, United Kingdom, Italy and Germany, he has learned to live in different cultures, of which the Italian culture is one of his favourites.
He enjoys working on a film production, photography and playing the guitar, on which he writes his own songs.
Spencer Coakwell graduated with a Bachelor's degree in Film from Brigham Young University in 2016, and during his second year of his Bachelor's education, he started working as an Assistant Editor at BYU Broadcasting. In December of the same year (start of his third year), he started working as an Online Editor, and when he graduated, he became an Assistant Editor at LDS Motion Picture Studio. He primarily uses the programs Adobe Photoshop and Final Cut Pro for his editing work.