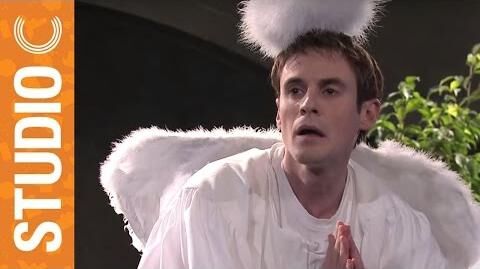 Transcript:

Jason: How you doin'?
Jeremy: I'm doing all right. It's a beautiful evening. The stars sure are out.
Jason: Alright. Let's do this.
Matt: Poof!
Jason: Who are you?
Matt: I am your Shoulder Angel, John. Here, allow me to just…
Jason: What are you doing?
Matt: Bear with me… These robes… Sigh…
Matt: John, I come to you with this critical juncture with words of warning. Do not do this.
Stacey: Well, uh, let's do this?
Matt: Do not do this.
Jason: Let's do this. What's the matter, Billy? Not getting cold feet on me, are you?
Stacey: I just got a bad feeling about this.
Matt: Excuse me, John, I'm needed elsewhere.
Matt: Okay. Billy, do…
Stacey: Nah, let's do this!
Matt: No!
Stacey: Here are the blueprints, if you want to take a look.
Jason: Yep.
Stacey: See, we got to watch out for the cameras on point A and point B.
Matt: What about looking out for your soul? At point Soul? Okay. John, give me those blueprints! Those are the devil's papers! Do what is right!
James: Hey guys. The uh… getaway car is ready.
Jason: Hey, Little Tim. Check these out!
Matt: No! No, don't check them out, Little Tim! No! Think about your little soul! Little Tim! Are you packing?! What is this?! Completely inappropriate!
Matt: Okay. Little Tim. Just wait for me. To get. To you. I. Gotta want it.
Matt: Little Tim…
James: Alright, let's do this.
Stacey: Let's do this.
Jason: Let's do this.
Matt: You leave me no choice!
Ad blocker interference detected!
Wikia is a free-to-use site that makes money from advertising. We have a modified experience for viewers using ad blockers

Wikia is not accessible if you've made further modifications. Remove the custom ad blocker rule(s) and the page will load as expected.