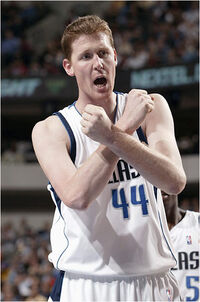 Shawn Bradley
Edit
Shawn Bradley (born (1972-03-22) March 22, 1972 (age 45)) is a German-American retired basketball player. He played in the NBA for the Philadephia 76ers, the New Jersey Nets and the Dallas Mavericks. Because of his height (7'6", 2.29m), he got the nicknames "The Enormous Mormon" and "The Storming Mormon". He scored 6,752 points in the NBA in total, with an average of 8.1 points per game. Besides that, he competed internationally for the national team of Germany, together with teammate Dirk Nowitzki. He came fourth at the European Championships. He retired in 2005. In 2010, he ran as a Republican for a District seat in the Utah House of Representatives, but lost 46.39% to 51.13%.
He appeared in the sketch "Shoulder Angel Meets Shawn Bradley".
Our favorite shoulder angel is back, and this time it is to help NBA player Shawn Bradley. Watch as the shoulder angel has to climb to great heights to help make a good decision.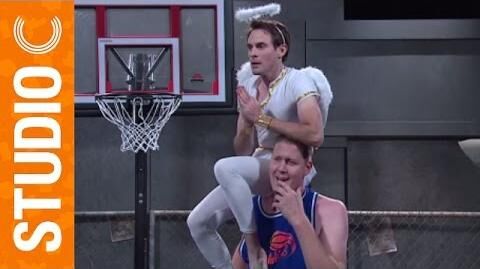 Ad blocker interference detected!
Wikia is a free-to-use site that makes money from advertising. We have a modified experience for viewers using ad blockers

Wikia is not accessible if you've made further modifications. Remove the custom ad blocker rule(s) and the page will load as expected.