Rogue Wave
Edit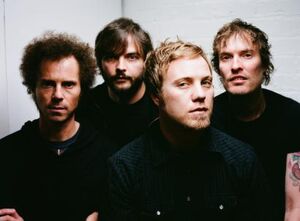 Rogue Wave is an American indie rock band currently consisting of Zach Rogue, Pat Spurgeon, Masanori Christianson and Jon Monahan. They gained popularity by peaking at #14 on the US Billboards with their single 10:1 in 2005. Since their formation in 2002, they have released six albums, the most recent one being Delusions of Grand Fur in April 2016, and several singles, including songs for the soundtrack of blockbuster movies and television series, like Spider-Man 3, Iron Man 3 and Scrubs.
Rogue Wave worked with Studio C on the sketch "Context is Everything".
Context is Everything
Edit
Rogue Wave teaches us that context is everything in our new music video!
Ad blocker interference detected!
Wikia is a free-to-use site that makes money from advertising. We have a modified experience for viewers using ad blockers

Wikia is not accessible if you've made further modifications. Remove the custom ad blocker rule(s) and the page will load as expected.