Nick Stentzel
Edit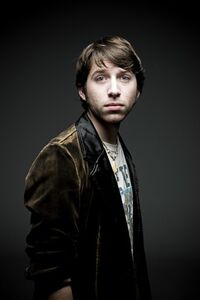 Nick Stentzel was the segment director and director of cinematography in Season 1.
Nick Stentzel graduated from BYU with a bachelor's degree in Media Arts: Film, and a second major in Photography. He was a part of BYU Divine Comedy, but he left in April 2009. After that, he "has travelled extensively, shooting documentary films and photography around the globe". He has travelled to Uganda, Israel, Peru and Singapore, among other countries, to show the circumstances people have to live in around the world. This is also why he has lived in Australia and Brazil.
He has also worked on several media-related projects, prominently Studio C Season 1, the documentary short Playing with the Devil and he was the writer of the documentary short Unhinged.
Nick Stentzel was the director of several sketches in Season 1, starting from Season 1 Episode 4, and he was the segment director of photography in these episodes as well.
Ad blocker interference detected!
Wikia is a free-to-use site that makes money from advertising. We have a modified experience for viewers using ad blockers

Wikia is not accessible if you've made further modifications. Remove the custom ad blocker rule(s) and the page will load as expected.