Mormon Misunderstanding
Edit
Mormons can be confusing to understand. What are the weird things you've heard? See if they match up with our video!
Cast: Mallory Everton, Stacey Harkey, Whitney Call, Adam Berg and Natalie Madsen Director: Jared Shores Producer: Jared Shores and Diane Mayne Writer: Mallory Everton Editor: Yurii Hydrick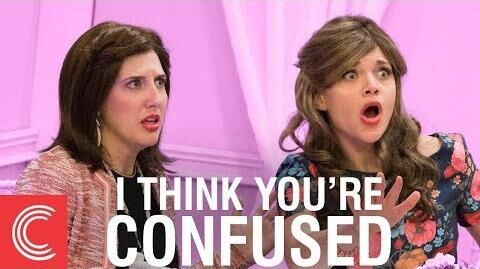 Be Sure To Subscribe to Studio C
Edit
Bring on the laughs! Sketch comedy for everyone. Watch Studio C on YouTube.
Top 15 Most Viewed Studio C Videos: http://goo.gl/0pCAHR
Season 7: https://goo.gl/0TcKKS
Season 6: https://goo.gl/CYaQDG
Season 5: http://goo.gl/jo8k4z
Season 4: https://goo.gl/KUBK3e
Season 3: https://goo.gl/W3ncbe
Season 2: https://goo.gl/Swq4qh
Season 1: https://goo.gl/VeQdXX
Studio C YouTube Exclusives: https://goo.gl/GzH8Py
Watch Studio C Mondays at 10pm ET/8pm MT on BYUtv or online here: http://byutv.org/studioc
Like Studio C on Facebook: https://www.facebook.com/StudioCtv
Follow Studio C on Instagram: http://instagram.com/studioctv
Follow Studio C on Twitter: https://twitter.com/StudioC_tv
Ad blocker interference detected!
Wikia is a free-to-use site that makes money from advertising. We have a modified experience for viewers using ad blockers

Wikia is not accessible if you've made further modifications. Remove the custom ad blocker rule(s) and the page will load as expected.