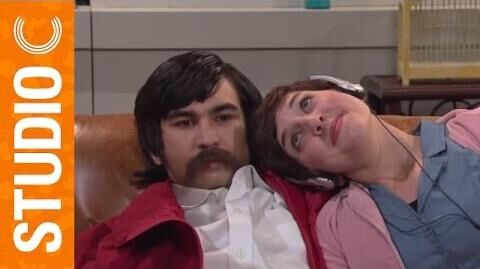 "Dating takes practice."
"Dating takes practice and sometimes some coaching. Watch as Whitney takes a course on love with her very own dating dummy."
This sketch was uploaded on the same day as the episode aired on BYUtv.
This is the fifth sketch written by Whitney (Call) Meek, and it's the second sketch in a row written by her.
This is the tenth sketch in a row to be directed by Julian Riley.
This is the first sketch since Reference Check to have a voice-only role.
Matt Meese doesn't appear in this sketch, which makes it the only sketch of Season 1 Episode 4 where he isn't a part of the sketch.
This is only the first out of two sketches not included in the episode description. The second sketch is Bad Extra.
"Like, Comment and Subscribe!"
Edit
The end slate for this sketch shows a black screen with the text "STUDIO C MON @ 9 ET / 7 MT".
Ad blocker interference detected!
Wikia is a free-to-use site that makes money from advertising. We have a modified experience for viewers using ad blockers

Wikia is not accessible if you've made further modifications. Remove the custom ad blocker rule(s) and the page will load as expected.