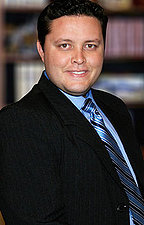 Luiz Malaman
Edit
On March 28, 2017, it was announced that Luiz Malaman would be joining the crew of Studio C as producer. He has been working for BYU Broadcasting since 2007, and he has won 14 regional Emmy Awards for his work as Producer and Director. He has produced many award winning shows in different genres, for example sports shows, talk shows, documentaries and game shows. As with many members of BYU Broadcasting, Luiz Malaman fluently speaks Spanish and Portuguese. He has produced and directed primarily Portuguese-speaking TV series, such as Conexao and Emprendedores, but also a couple of Spanish-speaking TV series, such as Tesoros Escondidos.
He has never been credited to have worked with Studio C before.
Ad blocker interference detected!
Wikia is a free-to-use site that makes money from advertising. We have a modified experience for viewers using ad blockers

Wikia is not accessible if you've made further modifications. Remove the custom ad blocker rule(s) and the page will load as expected.