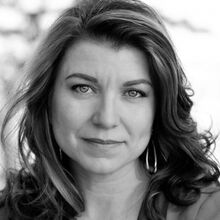 Jennine Hollingshaus is a member of the Makeup and Hair team of Studio C.
Jennine Hollingshaus was raised on a small farm in Alberta, Canada, and attended the University of Lethbridge and Brigham Young University, where she received a Bachelor of Arts in Theatre Studies, with an emphasis in Makeup Design. After receiving her bachelor, she moved to Seattle, Washington, and Minneapolis, Minnesota, where she worked as a freelance makeup artist. In 2013, she moved back to Utah, where she teaches courses in Principles of Makeup, Makeup Design and Advances Makeup Design at BYU.
She has won several awards for her work, including Outstanding Makeup Design for The Secret Garden in 1999.
She is currently married to Wade Hollingshaus, and mother of five children.
She has been working as a member of the Makeup team for Studio C since Season 3.
Ad blocker interference detected!
Wikia is a free-to-use site that makes money from advertising. We have a modified experience for viewers using ad blockers

Wikia is not accessible if you've made further modifications. Remove the custom ad blocker rule(s) and the page will load as expected.