Jared Mecham
Edit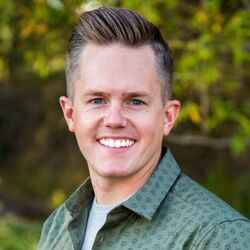 Jared Mecham (born (1988-04-21) April 21, 1988 (age 29)) is an American YouTube personality. He upload vlogs on YouTube, often about his family, and he has another shared channel, together with his wife Ellie. They have two sons named Jackson and Calvin, despite struggling with infertility for three years.
Jared Mecham attended Brigham Young University, and joined the Field & Track Team, where he was a combined pole vaulter and the coach of the women pole vault team.
Their shared channel, with over a million subscribers, was created as StyleByEllie, but was renamed Ellie & Jared shortly after, to document their struggles with infertility.
Jared appears as the volleyball coach of University of North Caroline in the sketch "Best Volleyball Blocks Ever with Scott Sterling". He also competed (and hosted) a "YouTubers vs. Studio C" challenge video, to celebrate Studio C reaching one billion views, together with Mark Rober, among others.
Best Volleyball Blocks Ever with Scott Sterling
Edit
Scott Sterling is BACK defending his team in the Volleyball Championship. And as per usual, Sterling isn't going down without a BIG fight!
YouTubers vs. Studio C: One Billion Views Challenge Video
Edit
In celebration of surpassing 1 billion views on our YouTube channel, we've invited 12 YouTubers to come participate in a challenge video with us! Watch all of the excitement of #YouTubersvsStudioC now!
Ad blocker interference detected!
Wikia is a free-to-use site that makes money from advertising. We have a modified experience for viewers using ad blockers

Wikia is not accessible if you've made further modifications. Remove the custom ad blocker rule(s) and the page will load as expected.