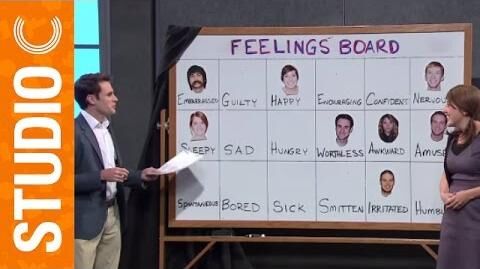 "The feelings board controls you."
"Whitney creates a feelings board at work hoping it will help people express their emotions. Watch as the feelings board turns out to have more power than she thought."
This sketch was uploaded four days after the episode aired on BYUtv.

This is the first time since Zombie BBQ where the difference was longer than a day.

This is the fifth sketch in a row to be written by Matt Meese, and the fourth sketch in a row to be directed by Julian Riley.
This is the second-most watched sketch of Season 1, after Channel Surfing.
This is the first sketch since While You Were Out where all ten Cast members are part of the sketch.
Out of the 18 squares on the "Feelings Board", the only one that isn't used in the sketch is "Spontaneous", although that square gets changed into "Attracted to Matt" during the sketch.
Whitney (Call) Meek suggests putting Stephen Meek's photo on "Spontaneous" or "Playful", although neither of those squares exist (anymore).
"Like, Comment and Subscribe!"
Edit
The end slate of this video shows a black screen with "STUDIO C, MON @ 9 ET / 7 MT".
Ad blocker interference detected!
Wikia is a free-to-use site that makes money from advertising. We have a modified experience for viewers using ad blockers

Wikia is not accessible if you've made further modifications. Remove the custom ad blocker rule(s) and the page will load as expected.