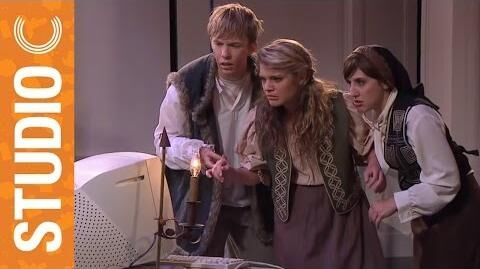 "Google translate can make life interesting."
"Technology, you love it and hate it. But what happens when you have to use it to communicate with someone you love? Watch as Jason tries to win the woman of his dreams using the internet."
This sketch is based on a true story, after Mallory Everton had trouble communicating with another tourist when she was on holiday in London.
"Google Translate" and "Google Translator" are both used as name for this sketch.
This sketch was uploaded on the same day as the episode aired on BYUtv.
Natalie Madsen is the only Cast member who does not appear in this sketch.
Stacey Harkey is not credited, but he does appear in this sketch.
This is the 25th sketch to be directed by Julian Riley.
This is the second sketch in a row to be written by Mallory Everton.
This is the longest sketch of Season 1 Episode 5, based on duration.
This sketch was also featured in the special Season 1 Favorites.
This is the second sketch in a row to use multiple locations, after Everything Sounds Nicer.
"Like, Comment and Subscribe!"
Edit
The end slate for this sketch shows a black screen with the text "STUDIO C MON @ 9 ET / 7 MT".
Ad blocker interference detected!
Wikia is a free-to-use site that makes money from advertising. We have a modified experience for viewers using ad blockers

Wikia is not accessible if you've made further modifications. Remove the custom ad blocker rule(s) and the page will load as expected.