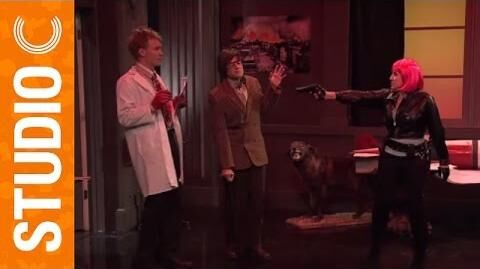 "Even evil geniuses can't remember everyone."
"Even evil geniuses can't remember everyone. Watch as the professor tries to figure out who his new nemesis is and what she wants with him."
This is the last sketch of Season 1 Episode 3
The sketch was uploaded on the same day as the episode aired on BYUtv.
This is the tenth sketch to be written by Matt Meese.
The Cast members are, once again, not using their own names in the sketch. All named characters have different names than their own names.

This is the third sketch in a row, where at least one Cast member is appearing with a different name.

Jeremy Warner is playing an unnamed henchman, a role he would repeat to play in more sketches in the future.
Matt Meese is playing the villain, a role he would repeat to play in a sketch with Lady Shadow, among others.
This is the oldest sketch where the old description and the new description are partially the same. The only thing that changed, was that a sentence was added to the summary of the sketch.
"Like, Comment and Subscribe!"
Edit
The end slate for this sketch shows a black screen with the text "STUDIO C MON @ 9 ET / 7 MT".
Ad blocker interference detected!
Wikia is a free-to-use site that makes money from advertising. We have a modified experience for viewers using ad blockers

Wikia is not accessible if you've made further modifications. Remove the custom ad blocker rule(s) and the page will load as expected.