ElsaRose01
 is the associate founder and administrator of this wiki and associate editor. These are her favorite sketches, cast members, and wiki pages.
Favorite Sketches
Edit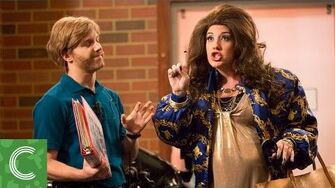 I Don't Do Mornings!
With talent like hers, why would you even dream about being talked into doing things you don't want to do, like working mornings? Meet Star Feraldo, THE A-List Extra of Hollywood. 

Kyle's Wedding
This sketch hasn't come out yet. Was featured in Season 7 Christmas Special.
Favorite Cast Members
Edit
Jason Gray, Matthew Meese
Favorite Wiki Pages
Edit
LIVE EVENT: 1 Million Subscribers - YouTube Challenge
Favorite Characters
Edit
Ad blocker interference detected!
Wikia is a free-to-use site that makes money from advertising. We have a modified experience for viewers using ad blockers

Wikia is not accessible if you've made further modifications. Remove the custom ad blocker rule(s) and the page will load as expected.