Burke Bowthorpe
Edit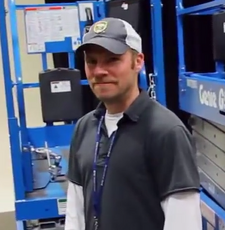 Burke Bowthorpe is head of the Art Department of Studio C. He has been the set decorator for many episodes since Season 3 and he is the Set Operations Director, which he has been since Season 1.
Burke Bowthorpe has worked on several television series and movies, his first professional project being the movie Nothing Last Forever as a set dresser. His other projects include Touched by an Angel (together with Matt Harris and Jason Haase), a television series airing from 1994 to 2003, 127 Hours (together with Matt Harris and Jason Haase), a movie starring James Franco and Kate Mara, and John Carter, a movie starring Taylor Kitsch and Lynn Collins.
Ad blocker interference detected!
Wikia is a free-to-use site that makes money from advertising. We have a modified experience for viewers using ad blockers

Wikia is not accessible if you've made further modifications. Remove the custom ad blocker rule(s) and the page will load as expected.