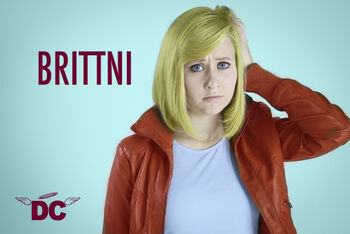 Brittni Miner is a former BYU Divine Comedy member. She joined the group in 2012 and left in 2014. She majored in political science. She was raised in Warner Robbins, Georgia.
About Me: I love hurricane season, football season, and a good season of The Walking Dead far more than I love Spring, Summer, Fall, or Winter. I absolutely detest sour cream and the word "moist" (which, ironically enough, describes sour cream). If I could have it my way, I'd watch "When Harry Met Sally" every day, while eating salt and vinegar chips and drinking a Coke.
She was featured in the sketch "Flirting Academy Graduation".
Flirting Academy Graduation
Edit
Our favorite class is back, and this time it is for their final exam. Watch the sketch and see if they can pass the class. 
Ad blocker interference detected!
Wikia is a free-to-use site that makes money from advertising. We have a modified experience for viewers using ad blockers

Wikia is not accessible if you've made further modifications. Remove the custom ad blocker rule(s) and the page will load as expected.