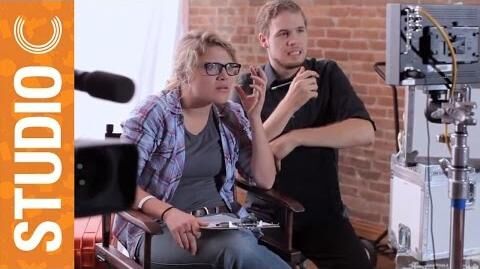 You might have been looking for one of the Bad Extra characters. You can find them here.
"Being an extra is hard. Like, crazy hard. This guy gets it."
"During the filming of a romantic drama, one bad actor can draw all the attention. Watch as this proposal takes a drastic turn and see if you notice the extra."
This sketch was recorded during the weekend of American Independence Day 2012.
This sketch was based on the "bad extras" Studio C has had in their past tapings.

The part where Russell: The Bad Extra complains about lettuce and the part where he tries to make a photo with his mobile, are based on actual events that happened during the taping of one of the sketches.
The other actions Russell: The Bad Extra does to interrupt the scene, were thought of by several members of the Cast and Crew.

This sketch was uploaded on the same day as the episode aired on BYUtv.
This sketch features Russell: The Bad Extra, a character named after Jason Gray's younger brother.
This is the first sketch since Lord Voldemort Goes On Blind Date to feature extras.
Adam Berg, Stacey Harkey, Natalie Madsen and Jeremy Warner are all credited to appear in the sketch, but they do not.
This is the shortest sketch of Season 1 Episode 4, based on duration.
This is one of two sketches not mentioned in the episode description.
This is the first sketch to be directed by Nick Stentzel.
James Perry had little experience in being on a film Crew, so he modelled his character after Diane Mayne.
This is the first sketch since Lord Voldemort Goes On Blind Date to be filmed off-set.

This sketch was filmed in Southworth Hall, in Provo, Utah.

This sketch is also featured in the special Season 1 Favorites.
"Like, Comment and Subscribe!"
Edit
The end slate for this sketch shows a black screen with the text "STUDIO C MON @ 9 ET / 7 MT".
Ad blocker interference detected!
Wikia is a free-to-use site that makes money from advertising. We have a modified experience for viewers using ad blockers

Wikia is not accessible if you've made further modifications. Remove the custom ad blocker rule(s) and the page will load as expected.