Alyson Hancey
Edit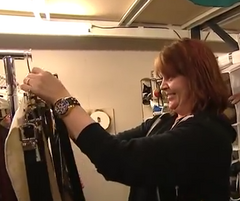 Alyson N. Hancey is a Salt Lake City, Utah, based Costume Designer/Stylist. She has been in the film and TV business for over 15 years. She has a major in Fashion Design from Brigham Young University and is passionate about everything related to design. She loves being a costume designer and creating and enhancing characters through design. She feels that the best costume designs are the ones that enhance a character and naturally feel apart of who that character is. They should not stand on their own unless they are meant to.
She is the Costume Designer for Studio C. She has also done work in High School Musical 3 and Touched by an Angel.
Ad blocker interference detected!
Wikia is a free-to-use site that makes money from advertising. We have a modified experience for viewers using ad blockers

Wikia is not accessible if you've made further modifications. Remove the custom ad blocker rule(s) and the page will load as expected.